February 1, 2015
While I accomplished my first Thru-Hike by accident, my second was more of an idea that nobody said no to. Its hard to argue with the beauty of the Skyline to Sea concept: starting from the South San Francisco Bay, park on top of the first ridge line and start hiking until you hit the ocean.
My original plan was to backpack this route over two days, however some overly ambitious and encouraging cohorts convinced me it was doable in a day with light packs. "Its all downhill" they would repeat at my objections. For better or worse, all it takes is an enabler to get me onboard with doing any number of things.
Distance
First things, first. How long is the Skyline to Sea trail anyways?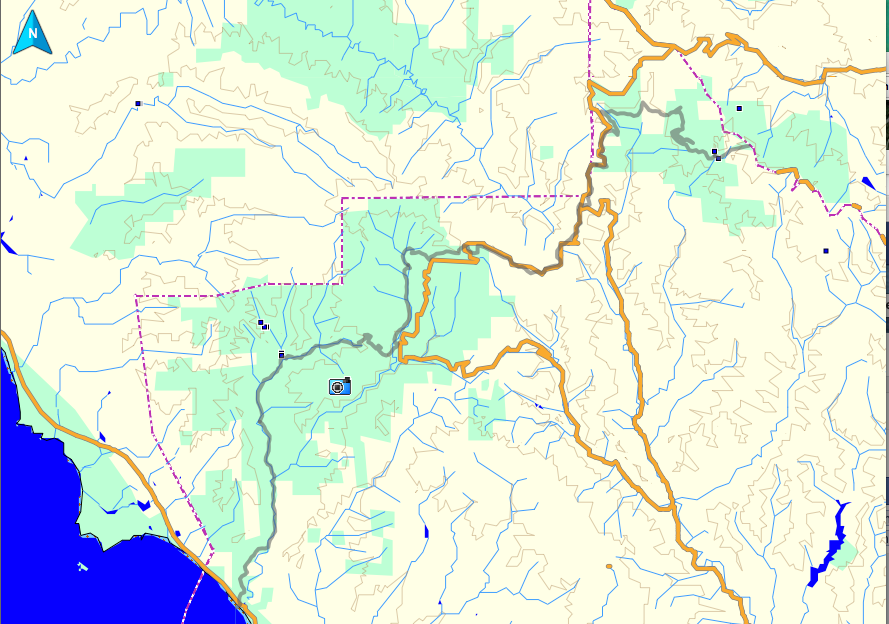 Surprisingly enough, that is a hard question to answer. Is it 29 miles? No, 34 miles. Wait, 25 miles? For a trail often brought up in conversation its amazing that I wasn't able to find any official maps or distance information about it from the California State Parks Department. Needless to say, I was a little surprised when I read "31 miles to Waddell Beach" when I was dropped off at Castle Rock at 6am. I actually ended up hiking it in ~34 miles (full stats at end).
For your reference, I found the most complete maps from redwoodshikes.com. These maps from Castle Rock to Big Basin and Big Basin Map to the Ocean are pretty good too.
Water
In California, water is unreliable with most streams drying up in the summer so you need to plan your refueling stops. Personally, I need a lot more water than most people so I started with four liters on my person. I ran out about 3–4 miles before Big Basin HQ and refilled from a secret spout off the shop side near the drinking fountains.
Regardless of where you start its a good idea to plan on there being no water until Big Basin HQ. There could have been water at the Waterman Gap Trail Camp, however other sources say its limited. I certainly didn't see any water there with the drought in 2014. Also, there were no filterable streams since Castle Rock until a mile or two of Big Basin HQ.
The Trail: Castle Rock
As I see it, the Skyline to the Sea trail has four main parts when starting from Castle Rock: Castle Rock, the Waterman Gap Snake, Big Basin and Waddell Creek. The Castle Rock segment provides great views of tree covered ridge lines, small patches of bare rock and even a 20 ft piece of cabled trail.
The main thing to watch out for in this section is that maps didn't completely align with the multiple close proximity trail junctions near Russell Point. We ended up hiking an extra half mile in the wrong direction trying to be clever by-passing the trail camp. On a long hike like this do yourself a favor and take two navigational measurements at junctions: one matching trail map and signage and another matching map topography and surrounding terrain.
The Trail: Waterman Gap Snake
You leave the Castle Rock section when you finally hop on the official Skyline to the Sea trail. I call this the Waterman Gap Snake because this section snakes along between Big Basin Way and private property.
The Waterman Gap Snake section takes you away from the rolling ridge lines of Castle Rock, transitioning the brush covered slopes with more level and sparse redwood forests. The highlight of this section is a place I named Car Crash Corner where we saw 3–4 vehicles down the slope from the trail with airbags strewn about, doors open and stripped of everything of value.
I've seen wreaked vehicles a number of times on trail, but Car Crash Corner hosts models significantly newer than the 50+ years old cars I'm used to seeing. Looking at these crash scenes below while listening to the buzz of car traffic above from Big Basin Way you wonder whether another vehicle will come barreling over the side at any moment.
The Trail: Big Basin
The Big Basin section brings you back to civilization, however it starts with the hottest, most exposed and least enjoyable part of the trail: China Road to Big Basin HQ. Most of Skyline to the Sea has abundant tree cover, but shade becomes a rare resource for the three miles after China Road.
As you near the HQ everything grows in size: redwoods, streams and people. For the past seven hours everyone on the trail is hiking Skyline to the Sea, moving with a mission and exchanging short, light words as they pass. However, nearing Big Basin HQ the trail becomes more crowded, noisy and everyone feels encouraged to ask you for directions. For all its popularity though, Big Basin (California's First State Park) is worth visiting for its 30 ft diameter Redwoods and its glorious water.
The Trail: Waddell Creek
From Big Basin HQ, passing popular Berry Creek Falls the trail is given back to its quiet and determined Skyline to the Sea trekking transients. Rejuvenated with water, engaging conversation and declining temperatures the sun begins to lower and this last portion of the trail goes by extremely quickly. Interesting enough, the fauna doesn't change significantly from redwoods to coastal forest until a couple of miles before the ocean.
Don't be shocked when the last two miles divert you from alongside a river lazily pushing towards the ocean back up to a ridge line. This seems counter intuitive, but have faith in your map. The ridge line route pays off with jubilation when you spot the ocean topped with orange clouds from the hillside.
You'll likely again question your route as the celebration wears off and the trail continues upwards, but be assured. This is the right trail.  In the end you'll be dumped out into a parking lot and finish your final few hundred steps along a concrete road to Waddell Beach, crossing PCT 1 and scampering down the sand to touch the ocean. You've made it. In the end Skyline to the Sea doesn't seem so intimidating or difficult. Leaving you wondering, what else can you do?
My Skyline to the Sea thru-hike stats:
Trip Time: 12:53 hrs
Trip Length: 33.37 miles
Avg. Speed: 2.6 mph
Total Ascent: 3832 ft
Total Descent: 6267ft
Logistics and Transportation
As with any thru-hike the biggest task besides hiking milage and water is transportation. I've heard there are shuttles that offer transportation from Waddell Beach to Castle Rock, but we had a friend pick us up instead. Estimating your arrival time can be a little tricky since your hiking for so long, but a 7pm pick up time worked well for us. Using a GPS to track your pace, distance and time is also a big help.
However, don't plan on relaying your pace to your ride. There is no cellular signal at Big Basin HQ, on the trail or at Waddell Beach so its best to plan ahead using an estimated time. Don't worry if you have problems there is a call box across the road from Waddell beach you can use to connect a call. Remember your ride's phone number!